Scientific Committee/Speaker
Véronique Lagrange, Director of Strategic Development (ADPI) USA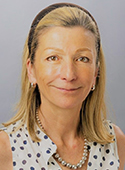 Véronique Lagrange is Strategic Development Director for the American Dairy Products Institute, USA, where she manages various projects and events, chairs the Center of Excellence and supports the new industry-led campaign, The Strong Inside.
She was Sr. VP of Business Development, Strategy and Insights for the US Dairy Export Council and worked there for 20 years. In prior positions with the Council, she directed marketing programs in Latin America, SE Asia, China and North Asia, and managed relationships with leading multinationals. She developed the US industry's "Dairy for Global Nutrition" initiative designed to position dairy nutrition as a key driver of economic growth in emerging economies.   
Lagrange is the author of many publications on the topic of dairy ingredients, their applications in human nutrition, their functionality and innovations in manufacturing.  She presented as an invited speaker at multiple domestic and international conferences and symposia.
She has a BS and MS in Food Science from the University of Wisconsin, Madison, a nutrition degree from Ecole de Medecine, France, PhD candidate in Engineering Management at GW University, Washington, DC. and completed executive programs at MIT, Cambridge, MA.
Talk Title: The Strong Inside TM
« Go Back