Speaker
Kevin Bellamy, Global Strategist Dairy (Rabobank), The Netherlands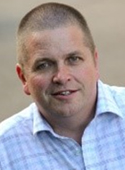 Kevin Bellamy With a global exposure to dairy and dairy ingredients of above $25bn spread across 5 continents, dairy and dairy ingredients is one of the most important sectors at Rabobank, the world's leading Food and Agriculture bank.
Rabobank is a Dutch cooperative bank with mission of "Growing a Better World Together". In practice this means Rabobank is not only committed to financing the transition to a sustainable food system but also to use its extensive international networks and knowledge base to help to deliver in that transitions.
As the Global Sector Head, Kevin Bellamy leads Rabobank's dairy team around the world providing services for the banks dairy clients along the dairy chain including many of the largest global dairy and dairy ingredient corporations on a global and local basis.
Kevin's expertise comes originally from industry prior to banking. He joined the Rabobank team of bankers and dairy experts in 2011, after previously being the Executive Director of the Global Dairy Platform (GDP), a global consortium of over 60 companies, with a collective turnover of over $100 billion USD, focusing on collaboration across the industry on key issues affecting dairy demand, sustainability and marketing.
In the past, Kevin has also been Chief Executive Officer of the UK Milk Development Council, and has served on a number of dairy related Boards around the world.
Kevin Bellamy is a Chartered Director and MBA.
Homepage: www.rabobank.com
LinkedIn: linkedin.com/in/kevinbellamy
« Go Back