Exhibitor
Cuddon Freeze Dry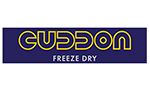 Cuddon Freeze Dryers are the benchmark for quality in sublimation solutions. Our dryers are exported world-wide as turnkey projects (delivery, onsite installation, commissioning & staff training) and supported by local networks and online control system support.
We have been developing and manufacturing freeze drying equipment since 1963. With over 55 years' experience and expert consideration of all the factors necessary for optimum freeze drying results, our products are highly respected around the world.
With our experience providing freeze dry solutions for the dairy, protein and probiotic industry, our support and consultation process are managed in confidence.
We work with you and your User Requirement Specification to provide the best solution for your needs.
Key points:
Unique design for heat sensitive products
Freeze in place for liquid products
Dairy Standards for surface finish of trays, chamber and module
Clean In Place option for chambers
Clean room option / isolation for plant
Removable heat shelving modules, with flat shelf plates both top and bottom, to provide an easy clean surface
Stand-alone touch screen control system, with remote access.
Experience in integration of control logic to customers SCADA system
We understand the dairy process and freeze drying, and how to integrate in to your systems and factory processes. With our technical support, process design, onsite installation and management, we can help make the transition as seamless as possible.
Talk to us about your next Freeze Dry project
« Go Back