Platinum Sponsor/Exhibitor
Glanbia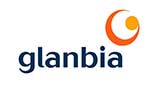 Glanbia plc is a global nutrition company, grounded in nature and science and dedicated to providing better nutrition for every step of life's journey.
Glanbia has deep roots in the dairy industry and has become the world's leading producer and marketer of quality performance nutrition products supporting active lifestyles. Its success as a global ingredients provider has been built on Glanbia's expertise in nutritional solutions supported by significant investment in research and development.
With more than 6,900 employees and a presence in 34 countries worldwide, Glanbia's vision is to be one of the world's top performing nutrition companies, trusted to enrich lives every day.
Glanbia takes pure and clean ingredients including milk, whey and grains, and using expert knowledge and capabilities produces high-quality nutritional solutions and branded consumer products for customers and consumers worldwide.
Our products are sold or distributed in over 130 countries and our major production facilities are located in Ireland, the US, the UK, Germany and China. The company is made up of three segments; Glanbia Performance Nutrition, Glanbia Nutritionals and Joint Ventures & Associates – Glanbia Ireland; Glanbia Cheese and Southwest Cheese.
Website: https://www.glanbia.com/
« Go Back