Silver Sponsor/Exhibitor
Koch Separation Solutions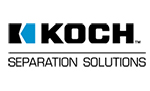 Meet our North American and European Dairy Experts at IWC 2020
Koch Separation Solutions (KSS) is transforming the landscape of separations by leveraging synergistic technology such as membrane filtration and ion exchange. With over half a century worth of experience, KSS offers solutions for the most demanding applications across food and beverage, life science, and general industrial markets. For the dairy industry, KSS offers cutting edge membrane-based technologies to improve product quality, offer reliable water and wastewater treatment, increase efficiency, and decrease operational costs. KSS is a Koch Engineered Solutions company.
More information is available at www.kochseparation.com.
« Go Back