Silver Sponsor/Exhibitor
Arla Foods Ingredients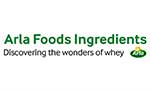 Arla Foods Ingredients is a leading whey ingredient supplier for infant nutrition, baking, dairy, medical applications and sports nutrition.
Our functional and nutritional whey proteins, milk minerals, lactose and whey permeate can promote nutrition, improve texture, prolong freshnessand increase yield for industrial food products
Forty-five scientific staff and 22 food and dairy technicians work to discover and carefully document the effects of our functional and nutritional ingredients. At application level, some 40 dairy technicians, scientists and engineers, work in well-equipped pilot plants to help our customers prepare these discoveries for success on their production lines and in the marketplace.

Arla Foods Ingredients Group P/S is a subsidiary of Arla Foods, a global dairy cooperative owned by dairy farmers in six countries.
« Go Back