Exhibitor
Ecolab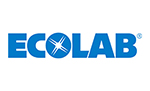 A trusted partner at nearly three million customer locations, Ecolab is the global leader in water, hygiene and energy technologies and services that protect people and vital resources. Around the world, customers across industries, from foodservice and food processing to healthcare and hospitality, choose Ecolab products and services to keep their environments clean and safe. operate efficiently and achieve sustainability goals.
"What drives our customers drives us"
The opportunities and constraints that drive our customers in the food industry are driving us to come up with solutions whether it be food safety, sustainability, or operational efficiency. Our expert teams elevate and standardize food safety practices around the world. Ecolab provides and protects what is vital: plant productivity, product quality and sustainability.
For more than 40 years Ecolab has been engaged in membrane hygiene. Under the brand name Ultrasil® we offer membrane cleaning chemistry and implementation expertise to the dairy, food, and life science industries. Ecolab operates service centers around the world with teams of experts to solve complex customer hygiene challenges in membrane applications.
« Go Back