Exhibitor
Hydranautics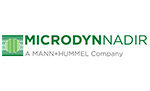 MICRODYN-NADIR has been manufacturing high quality membrane products for over 50 years and has locations in the Americas, Europe, and Asia. This experience enables us to offer a wide variety of membrane solutions for the Whey Industry, helping recover valuable products in food and dairy streams.
We offer the widest range of membrane products, including microfiltration, ultrafiltration, nanofiltration, and reverse osmosis in flat sheet, spiral-wound, and hollow-fiber configurations, as well as MBR technology for treatment of water and wastewater.
TurboClean® sanitary elements feature a rugged polypropylene shell, which results in a stronger, more rigid and durable element suited for the most challenging process applications. A patented technology, they are manufactured to a precise diameter that reduces bypass flow by 60% or more when compared against conventional full-fit, net-wrapped, or caged membrane elements.
MICRODYN-NADIR operates as the membrane solutions unit of global filtration titan MANN+HUMMEL, a $4 billion filtration company based in Germany with thousands of customers spanning the globe. For more information, visit us online at microdyn-nadir.com.
Website: www.microdyn-nadir.com
« Go Back