Exhibitor
Toray Membrane Europe AG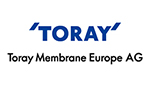 In 1968 TORAY began their membrane development program for water treatment. Fifty years later, the name endures as a leading supplier of membrane technologies continuing to add new solutions for a sustainable future. This constant pursuit of technological innovation has enabled us to strengthen our core assets: R&D know-how, strong customer and supplier bases and the dedicated people that stand behind our products and services. To experience lasting growth, partner with a company that has, for decades, adapted to the changing needs of the market and looks to the horizon for the next big challenge.
Toray Membrane Europe AG (TMEu) located in Switzerland, with a warehouse facility in Germany, manages the supply of membrane products from local stock. We offer Reverse Osmosis, Nanofiltration, Ultrafiltration, and Microfiltration membrane elements manufactured in sanitary design for applications in Food, Dairy, Beverages, Pharmaceutical and Heat Sanitizable applications. These products are provided using a wide range of materials and feed spacer sizes to best suit your specialty applications.
Toray maintains high quality in our products and services through decades of R&D, manufacturing, and proven references.
Toray offers membrane products that cover the entire spectrum of filtration for the processing of dairy foods. Membrane elements are manufactured with precision and available in varying diameters, lengths, and feed spacer thicknesses to meet the specific retention of proteins, organic molecules, and other compounds needed to produce quality dairy products.
« Go Back