Speaker
Dan LaMarche,  (Vice President Agropur Ingredients), USA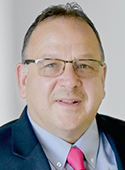 Dan LaMarche is Senior Vice President of Ingredients for Agropur. LaMarche has 33 years of experience in dairy ingredients, working in both operations and sales with dairy companies, including Galloway West, Hilmar Cheese Company and Trega Foods.
In 2008, Agropur Dairy Cooperative acquired Trega Foods. Since then, LaMarche has played an integral role in the significant growth of Agropur.
Today, LaMarche leads Agropur's entire ingredients business, including sales, marketing, and tech services and Research, Development, and Innovation (R,D&I) - a distinguished team who uses the science of ingredient chemistry and technology to develop innovative, functional, nutritious and delicious ingredients for food and beverage manufacturers worldwide.
LaMarche and his wife live in Green Bay, WI and have two adult sons.
« Go Back